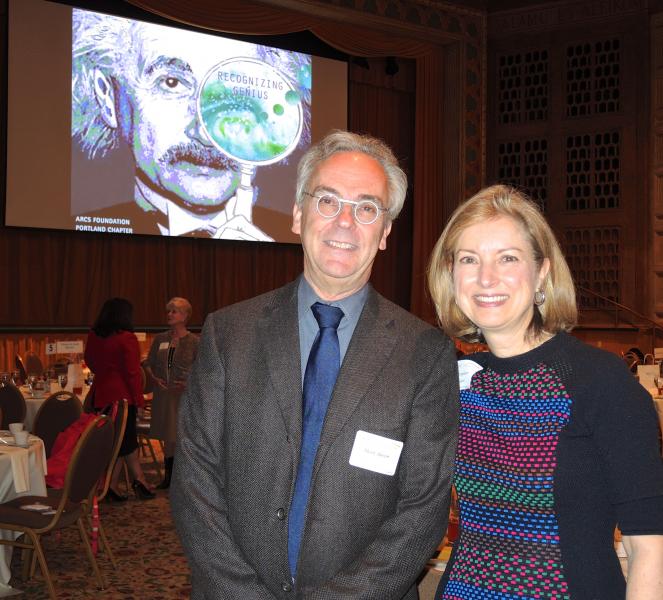 From learning about Earth as a complex eco system, to hearing about a possible new targeted therapy for a rare kind of leukemia, to interacting with Ph.D. students face-to-face, guests were fully engaged at the Scholar Awards Luncheon for ARCS Foundation Oregon on October 22. A record turnout of 450 people welcomed the current roster of 48 scholars at OHSU and Oregon State University who are the recipients of ARCS scholar awards. 
A Poster Session preceded the "Recognizing Genius" luncheon program. Guests and a dozen scholars traded information and questions on a wide range of topics from environmental policy and challenges in West Africa, to visualizing neurons and synapses in the brain, to activating the immune system to fight cancer.
One highlight of the event was the announcement of a third endowed scholar award for ARCS Oregon.  President Jean Josephson told the appreciative audience, to much applause, that anonymous donors have created "The Fairway Fund" for the Chapter, to fund a scholar in perpetuity.  
Net income of the Scholar Awards Luncheon, held at the Portland Art Museum, is expected to be more than $80,000. 
The keynote speaker was Dr. Mark Abbott, dean of the College of Earth, Ocean and Atmospheric Sciences at Oregon State University. Dr. Abbott explained to ARCS member and guests how the oceans have evolved, and continue to change, as one complex component of planet Earth. Dr. Abbott is internationally renowned for his work in creating one of the world's most sophisticated supercomputer networks for marine science.  His points included:
Ninety percent of all global trade is conducted on the ocean, which then impacts transportation of those goods to landlocked locations. The economic influence is far reaching.
The ocean as a food source is becoming topped out, even as we go deeper and deeper to fish.  This will impact humans on a large scale, and a local scale.
Sea levels are rising. Humans will need to make changes, or moves, at vulnerable locations.
The oceans are complex and changes to currents and circulation last for hundreds of years.
Increases in energy use lead to greater prosperity and well-being.
Our planet is a complex eco system and randomness plays a role, as well as science.  Despite global scientific efforts, we don't have all the answers. 
He recommends reading Michael Nielsen's book, "Reinventing Discovery: The New Era of Networked Science."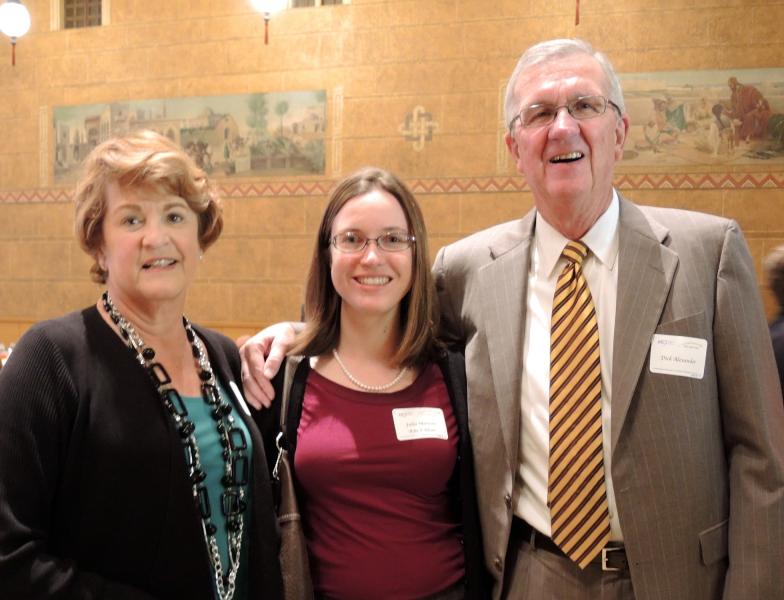 The scholar speaker was Julia Maxson, who received her Ph.D. as an ARCS Scholar in 2011 at OHSU. Now in the Brian Druker lab at the Knight Cancer Institute at OHSU, Maxson is using genomics to develop better treatments for leukemia and has recently discovered a particular gene mutation in the majority of patients with the rare form of CNL leukemia. Her research lead to the discovery of a targeted therapy for patients with this gene mutation. A clinical trial begins next year to treat CNL patients with this drug at five academic institutions across the country. "It has been amazing for me to see the whole spectrum of this project," Maxon told the audience.
Maxson's scholar award donors, Diane and Dick Alexander, urged guests to join in supporting ARCS scholars. "How fortunate we are to have these brilliant, there are no other words, young scholars studying in stellar Oregon programs that we, as ARCS donors, support," Dick Alexander said. 
Funds raised at the Scholar Awards Luncheon will be used for future scholar awards.
The luncheon was supported by a record number of underwriters. Sincere gratitude goes to:
Einstein Presenting Sponsors
Hoffman Construction Company/Wayne and Julie Drinkward
OHSU
Oregon State University and the OSU Foundation
Marie Curie Circle
Sharon and Keith Barnes
Conference Solutions
Wells Fargo The Private Bank
Thomas Edison Circle
Columbia Distributing
Washington Trust
Barbara and Philip Silver
Alexander Fleming Circle
Aletha and Chris Anderson
CH2M HILL
Geffen Mesher/Tonkon Torp LLP
Jean and Rich Josephson
Jubitz Corporation
Caron and Larry Ogg
The Oregonian
PWC LLC
Ellen and Mark Richardson
Stoel Rives LLP
Sunshine Dairy
The Private Client Reserve of U.S. Bank
Walsh Construction
Barbara Wilkinson and Peter Rapp
Top Photo: President Jean Josephson and Keynote Speaker, Dr. Mark Abbott
Second Photo: Donors Diane and Dick Alexander with Scholar Speaker, Dr. Julia Maxson