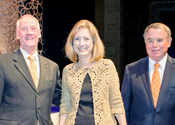 The Milton Harris Society is Oregon State University Foundation's premier gift recognition level, honoring those who are considered the most visionary supporters.
Earlier this month president Jean Josephson had the honor of representing ARCS Foundation Oregon at the Oregon State University President's Dinner for our chapter's $1 million pledge.  ARCS members Carol Van Natta and Past President Caron Ogg worked to assure that ARCS received this prestigious recognition. 
The society is named for 1926 OSU graduate and noted chemist, Milton Harris, who made the first $1 million gift to OSU.  Milton Harris was raised in Portland, OR and enrolled at OSU at the age of 16, taking every chemistry course offered and graduating at age 18.  His distinguished career included founding Harris Research Laboratories, chairing the National Academy of Sciences, and receiving numerous professional and scientific awards.
In recognition of the pivotal role they have played at OSU, members of the Milton Harris Society receive a number of donor courtesies including:
Recognition at the annual President's Circle Dinner the calendar year after the gift is pledged
Invitations to all subsequent President's Circle Dinners
Recognition in the Annual Donor Honor Roll
Special communications from the University and the OSU Foundation
Invitations to a variety of OSU events – athletic, academic, and cultural
In addition, at the conclusion of the Campaign for OSU, Harris Society members will be permanently commemorated on a donor wall on campus.
The ceremony and induction was impressive.  Each new inductee was introduced through a video. Jarvis Caffrey, an ARCS scholar who is in nuclear engineering and radiation health physics, ably spoke of his research and his deep appreciation for ARCS support. His wife, ARCS scholar Emily Caffrey, was by his side at the reception and dinner. 
Several chapter members who were instrumental in bringing ARCS to Oregon State University were able to attend, including Sharon Hewitt, Leslie Workman, Diane Alexander, Aletha Anderson, and Caron Ogg, along with their spouses.  ARCS Corvallis members Beth Ray, Sheila Goodwin, and Judy Adams also witnessed the honor.
ARCS Foundation Oregon is now officially recognized as a major donor at Oregon State University.  The Oregon Chapter has committed over $600,000 to date, with a deadline of 2017 to complete the $1 million pledge. Each member of ARCS Oregon has contributed to the Chapter's investment in Oregon State scholars and is included in this honor.