When asked about having "hope," Jane Gray, and her husband, Dr. Joe Gray, both fall silent. The word hangs in the air like a thick perfume. A few seconds later, the couple responds. It's a loaded question with a complex answer—an explanation that begins with a phone call on January 24, 2017.
The sharp, gnawing pain that ARCS Oregon Chapter member Jane felt in her side wasn't appendicitis, according to the voice on the other end of the line, it was most likely cancer. For the second time in her life, Jane was diagnosed with breast cancer—just four days before she and Joe were to celebrate their fiftieth wedding anniversary.
"I was shocked and also in denial," Jane remembers. "After my first diagnosis and successful treatment in 2010, I was told the chances of the cancer recurring were less than 3 percent. It didn't make any sense to me."
Following an ultrasound, plus a host of lab work and scans, doctors told Jane she had stage IV metastatic breast cancer. The disease had spread to other organs, tissue, and bones throughout her body.
Jane says she immediately researched the diagnosis online. The prognosis left her in tears. "All the information I read said even with treatment, my life expectancy was only about three and a half years," she states.  
The diagnosis stunned Joe, a cancer researcher, for another reason.
"I participated in the analysis of Jane's original tumor and in the design of her cancer treatment in 2010. Her disease was confined to her breast—a stage 1 diagnosis. Her oncologist and I thought it was caught early enough, treated aggressively, and considered cured," he remembers. "The fact that the tumor recurred was just a complete shock. But Jane and I immediately started thinking ahead about how we were going to deal with the new diagnosis?
"The answer was a new program I founded and designed specifically for metastatic breast cancer research," Joe adds. "It was not open for enrollment yet, but I told Jane, 'We're going to launch it now,' and she agreed."
The Grays' battle against breast cancer had begun. It was a war neither of them planned to lose.
The Researcher and the Patient
As fate would have it, Joe spent almost four decades paving the way in breast cancer research at University of California, San Francisco (UCSF), and as assistant laboratory director at Lawrence Berkeley National Laboratory. A leader in his field, Joe has invented technologies resulting in eighty patents and helped scientists determine which patients should receive effective treatments with groundbreaking drugs like Herceptin.
Now a professor of biomedical engineering at Oregon Health & Science University (OHSU), Joe also serves as the associate director for biophysical oncology in the OHSU Knight Cancer Institute. It's the same facility where he developed a revolutionary project called the Serial Measurements of Molecular and Architectural Responses to Therapy (SMMART®).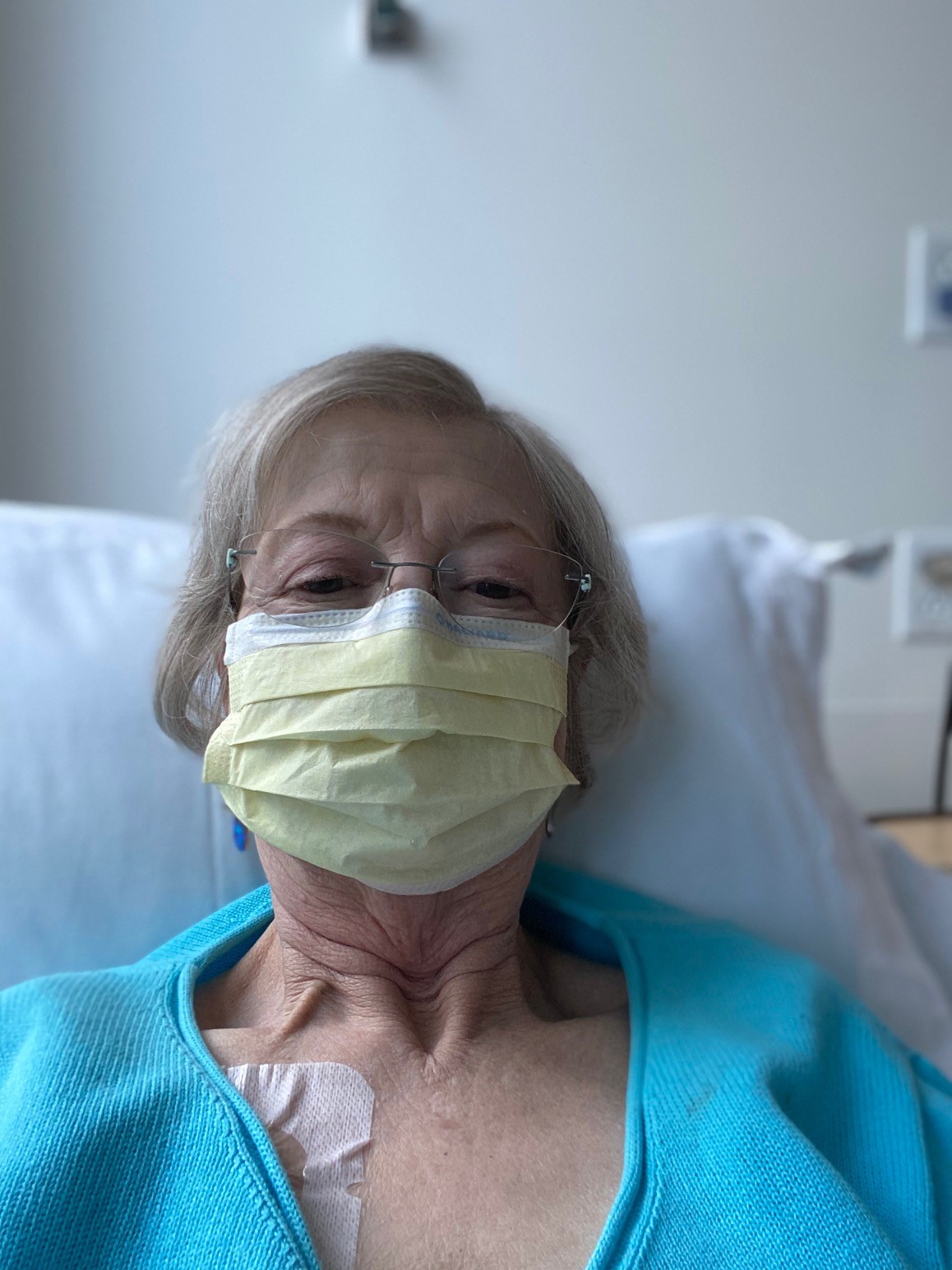 Jane receives an infusion as part of her breast cancer therapy at the OHSU Knight Cancer Institute. Photo Courtesy: Jane Gray
According to Joe, the goal of SMMART is to develop new treatments for cancer that are more durable and tolerable— and allow a better quality of life for patients in advanced stages of disease. More importantly, the SMMART team's main principle is to discover why cancer becomes resistant to therapies—and create alternative medicines to prevent that from happening.
SMMART's doctors, scientists, and researchers tailor each treatment according to the characteristics of an individual's cancer and genetics, Joe explains. When a tumor stops responding to therapy, the SMMART team resamples the tumor and determines a better course of treatment.
Days after Jane's stage IV diagnosis, Joe pushed administrators to launch the SMMART project and enroll patients right away. His request was approved. Jane was the first patient signed up for the project. It was a pivotal moment in the couple's battle against breast cancer—with Joe researching new life-saving treatments, and Jane trying new therapies to keep her tumors from progressing further.
Jane jokingly refers to herself as SMMART's "guinea pig," but says she wouldn't be alive today without the program. She remembers learning how advanced her cancer was after the second diagnosis.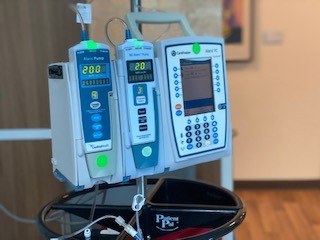 This equipment delivers life-saving treatment through a port access in Jane's chest. Jane will receive therapy for the rest of her life. Photo Courtesy: Jane Gray
"I never saw my scans until months later when Joe was giving a presentation. He showed a scan of somebody riddled with tumors inside their body. I found out that scan was mine," Jane says. "Today I'm doing really well and am not covered with tumors. The ones I do have are in my bones. When they start advancing, my SMMART team finds another treatment for me to try. I've been on numerous protocols, including a drug typically used to treat prostate cancer. I've been doing this for almost five years, and I'll be on treatment for the rest of my life. But if that means I'll live more years, then it's worth it to me."
According to Jane, her medical information, tumor treatments, and responses are available to the public so other scientific teams can analyze the data and suggest new treatment ideas.
It's her own personal way of contributing to SMMART and supporting ARCS mission—advancing science in America.
Supporting ARCS Mission
Jane joined ARCS Oregon Chapter in January 2012—almost five years before she was diagnosed with stage IV breast cancer.
Now, more than ever, both Jane and Joe realize the significance of ARCS mission and the organization's support of scientists and researchers.
"It's important to continue funding new, young scientists," Jane says. "There are a lot of very smart students out there that could, and should, be doing more scientific research."
"ARCS is helping students become engaged in exciting and groundbreaking projects, which is critically important," Joe states. "Our students are increasingly in need of support. If we don't help, then we won't have a new generation of scientists, and all this research and innovation will just stop. We can't allow that to happen. Scientific research is essential. Jane and I have seen that firsthand."
The couple has sponsored two ARCS Scholars and hope to support a third student in the future.
Holding on to HOPE
Just like the word "hope," the future is hard to define and complex to describe for Jane and Joe Gray.
"We tell our story because we want more funding for cancer research, for scientists and for programs like SMMART," Jane says. "We want and hope for new, successful clinical trials that will help future patients."
At the end of the day, beyond all the research and treatment, the Grays agree it is hope that keeps them fighting the deadly disease together, one day at a time.
"Having hope is really important to us," Joe admits. "We have hope that some of these new approaches will allow us to treat Jane's tumor for a long time."
According to Jane, hope motivates her to continue planning for the future—however long that may be.  
"When I was diagnosed, I hoped I would make it five years, which I've almost reached," Jane proudly says. "Now I tell people I'd like to make it five more years. But I'd really like to make it at least ten years, if not more. That's something I definitely look forward to and want to achieve."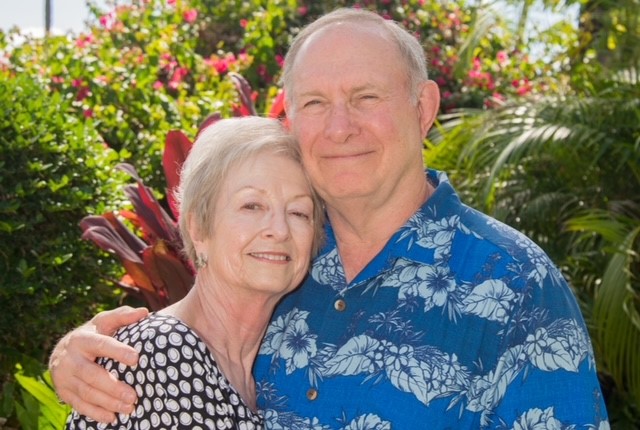 Jane and Joe Gray enjoy some time away from the Knight Cancer Institute. The couple will celebrate their 55th wedding anniversary in January 2022. It will also be an important milestone for Jane. The month marks five years since she was diagnosed with Stage 4 metastatic breast cancer. Photo Courtesy: Jane Gray